MSJC Foundation Champions of Tomorrow
MSJC Foundation Champions of Tomorrow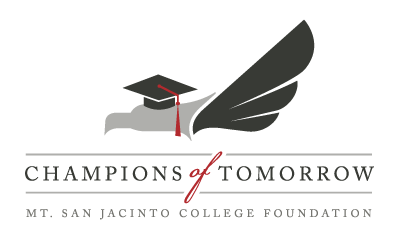 "If your actions inspire others to dream more, learn more, do more and become more, you are a leader."
– John Quincy Adams, 6th President of the United States
Mt. San Jacinto College Champions of Tomorrow believe in the difference a single individual or business can make in the life of an MSJC student. They provide resources that make education more accessible and a student's dream a reality. They are our Champions of Change. The MSJC Foundation wants your annual commitment to the students of MSJC to change your life too. Your support will create opportunities for you to celebrate and engage with the college and its students. These memorable moments will demonstrate the real difference your corporate or personal gift makes.
Pledge today: Sponsorship Pledge Form
For more information about becoming a Champion of Tomorrow, please contact Rebecca Orlauski at (951) 487-3171 or rorlauski@msjc.edu.
These generous organizations have made an annual commitment to make an impact at MSJC by creating access for our students and community!