Pledge for Success
At MSJC, student success includes addressing the systemic structural barriers for students that prevent them from getting on a path or staying on a path; barriers that prevent us from closing equity gaps on campus.
MSJC Pledge for Success is a basic needs initiative that removes some of the barriers to student success inside and outside of the classroom by providing students funding, food, books and supplies, clothing and basic, essential hygienic items.
Students on the right track academically to earn a certificate or a degree, or to transfer to a four-year university also often need to find employment in the region, but lack the appropriate clothing for a job interview. The Pledge for Success leads targeted drives such as the Career Closet campaign that welcomes donations of dress clothing so students can feel confident talking to employers at locations such as the annual MSJC Career & Job Fair.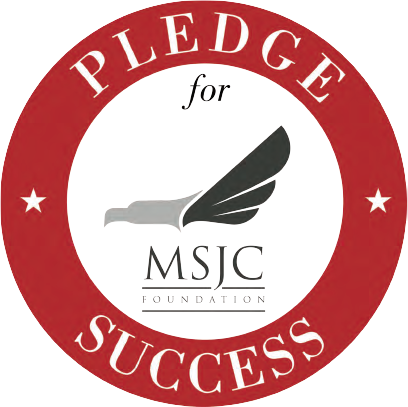 If you're interested in donating to the Pledge for Success, please contact the MSJC Foundation Office at (951) 639-5173 or email msjcfoundation@msjc.edu​.
Vouchers that students can use to purchase meals in the campus cafeterias
Kits filled with basic and essential hygienic products
Food pantries that provide free food to MSJC students
Clothing for job interviews
Transportation
Childcare
Books
​