Child Development & Education Center
MSJC Child Development & Education Center
The MSJC Child Development & Education Center offers childcare and preschool for children ages 18 months to 5 years-old. We serve MSJC students and the community.
For information please call our front desk at 951-487-3605 or stop by the center Monday through Friday from 7:30am to 5:30pm.
San Jacinto Campus
1499 N. State St.
San Jacinto, CA. 92583
(located in building 2150 on Eagle Dr.)
(951) 487-3605
childdeveducationcenter@msjc.edu
Our Program
The Child Development and Education Center serves as the model lab/demonstration program for the Child Development and Education Department and related disciplines. College students perform observations and participate in on-the-job training as well as conduct student teaching in the center.
At the Child Development and Education Center, child care and education services are provided for young children from diverse backgrounds with differing abilities in a safe and welcoming setting. Responsive and professional teachers and caregivers build trusting relationships with the children and families. Children learn by doing in an environment that offers challenge and support.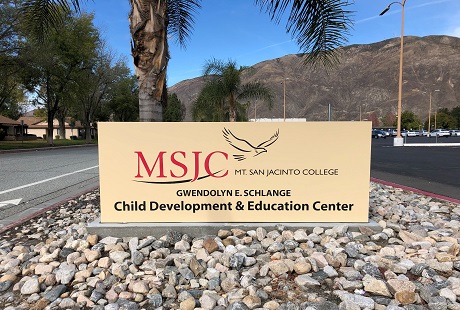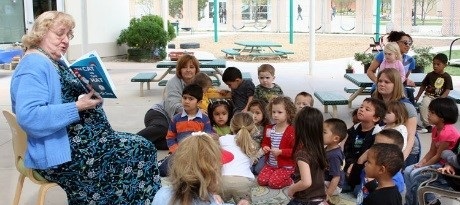 Above: The late Gwendolyn Schlange, a longtime educator who also served as a member of the Mt. San Jacinto College Board of Trustees for 20 years, reads to children at the MSJC Child Development Center. Ms. Schlange passed away on November 21, 2016. On April 13, 2017, MSJC dedicated the center in her honor.
---
Frequently Asked Questions
The center is open Monday through Friday from 7:30 a.m. to 5:30 p.m. during fall and spring semesters. In addition to our full day child care services, we also offer a 3-hour/day morning and afternoon preschool program, operating August through June.
We welcome children from 18 months through 5 years of age. We proudly serve MSJC students, faculty, staff and local community members. Our MSJC student parents receive priority enrollment, however all families are welcome and encouraged to apply. For more information, please call the center.
Because we serve the college as a training/lab facility we staff the classrooms with teaching teams lead by credentialed Master Teachers and Teachers. Teaching teams also include Associate Teachers, Student Interns, and practicum students.
Our center are licensed under regulations set by Community Care Licensing and the California Department of Education. We maintain 1:4 adult-to-child ratios in our toddler programs and 1:8 ratios in our preschool programs.
Our program provides both child care and early education, following a model of practice that we know supports brain development, school readiness, and life success. Teaching teams form trusting relationships with the children in order to plan a curriculum that meets their individual interests and needs. We follow developmentally appropriate practice, which means that learning before formal schooling should be concrete, with hands-on experiences using real materials.
The center's fees are based on family income. For more detailed information, please call the center.
We would love to show you the Child Development and Education Center. Please call to make an appointment.
We encourage families to become involved in our programs. Opportunities for involvement include:
- participation on one of our Parent Advisory Committees
- parenting classes/seminars
- special family events
We provide referrals to community agencies and resources.
We conduct assessments and, when appropriate, we offer referrals to intervention services.
We provide breakfast, lunch, and snacks prepared in our own kitchen. Child and Adult Care Food Program
The Goals of the Child Development and Education Department
The Child Development and Education Center strive to achieve the following goals:
To provide a model program for the training of early childhood teachers,
To provide a model program of education and care for young children for the purpose of training interns, student teachers, and observation students from the CDE department and related disciplines,
To provide a caring environment that supports students, children and their families,
To provide a research facility for students, faculty, and early childhood educators,
To serve as an information service, and training resource for the collaborative efforts of the college, and
To demonstrate advocacy in the community.
In order to accomplish our goals, we provide a rich indoor and outdoor learning environment, and a joyful setting for children, parents, students, staff, and community members. Here they can interact to solve problems, be creative, support each other, and develop skills for school and life success.