MSJC Community Outreach
To request Outreach Services, please submit this form:
Submit an Outreach Request Form
What is ​Community Outreach at MSJC?
Mission Statement
"The mission of Outreach is to promote student access and success through the development of student awareness about the opportunities at MT. San Jacinto College making it the college of choice for prospective students"
Learning Outcome:
Raise awareness about the benefits of college through presentations, workshops and other informational sessions

Participate in MSJC sponsored district and community events including college tours, presentations, college fairs, workshops, and other informational sessions
Outreach at MSJC
Located on the San Jacinto Campus and on the Menifee Valley Campus of Mt. San Jacinto College

Coordinate the outreach and recruitment efforts for the entire MSJC district, which covers approximately 1,700 square miles

Provide outreach services to all levels of the K-12 system, with a focus on students preparing to graduate

high school

Coordinate the College Mentor Program
On-Campus or "In-reach" Services
Request a campus tour by calling 951-639-5316 or email outreach@msjc.edu
Assist with on campus events and activities.
Provide information to students with the enrollment process through College Mentors.
Off-Campus Outreach Services
Application, assessment and orientation workshops provided on site to high schools
Information workshops and presentations in English and Spanish.
Representation at high schools, non-profit organizations, businesses and community events
Campus tours (please submit a request form)

Menifee Valley Campus
San Jacinto Campus
Temecula Valley Campus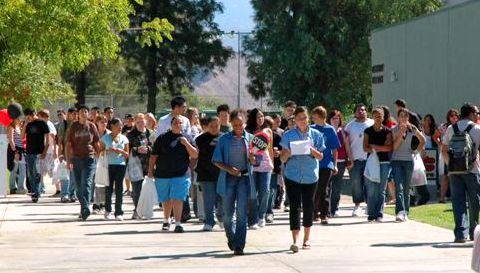 Please contact us for additional Outreach information or request for services:
Email outreach@msjc.edu
Menifee Valley Campus Outreach Service Area
Canyon Lake, Homeland, Lake Elsinore, Lakeview, Menifee, Murrieta, Nuevo, Perris, Sun City, Temecula, Wildomar, and Winchester.
Mt. San Jacinto College
MVC Outreach Office, Room 1016
28237 La Piedra Road
Menifee, CA 92584
Office: 951-639-5316
San Jacinto Campus Outreach Service Area
Aguanga, Anza, Banning, Beaumont, Cabazon, Cherry Valley, Hemet, Homeland, Idyllwild, Mountain Center, Pine Cove, Romoland, Sage, and San Jacinto.
Mt. San Jacinto College
SJC Outreach Office, Room 1303, Building 1300
1499 N. State Street
San Jacinto, CA 92583
Office: 951-639-5316
Administrative Contact
Jenny Hughes, M.Ed.
Director of K-12 Partnerships, Career Education
jhughes@msjc.edu