Financial Aid at MSJC
2024-2025 Major FAFSA Changes

There are many changes to the FAFSA and Pell Grant eligibility determination for 2024-25. Check them out now!
Federal School Code: 001246​
There are several ways to pay for college, and we want to ensure that students are well-informed on all of the aid options available to them. The Financial Aid Office at MSJC is here to assist you and your parent in navigating the financial aid process, including applications and disbursements. The information below provides a general overview of the financial aid process, available workshops, and orientations available to you and your parents. We encourage you to utilize our resources and take advantage of the aid programs available to help alleviate the financial burden of paying for college.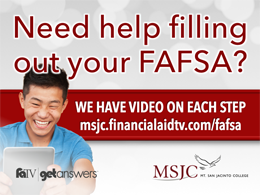 If you have specific questions related to Financial Aid, we encourage you to visit our office or contact us by phone to speak to a financial aid representative, as we are making every effort to address any concerns.
Financial Aid Office Hours
Financial Aid Office Fall Hours 
Monday – Thursday: 9:00 AM-5:00PM 
Friday: Closed
*In-person services for Financial Aid only available at the Menifee Valley Campus
Reach us by phone at 951-465-7891 
Submit Documents: Student Forms
Administrative Contact
Financial Aid Program Coordinators
Meghan Amador
Scholarships - Federal Work Study Program - MSJC Promise Program - Outreach and Workshop Events
mamador@msjc.edu
Araceli Higuera
State Aid Programs: Dream Act - Cal Grant - Student Success Completion Grant- CHAFEE - GSETP- DSIG - Overpayments
ahiguera@msjc.edu