Ronald Bowman
Instructor
Department: Business and Management
Contact:
Phone:      
Email: rbowman@msjc.edu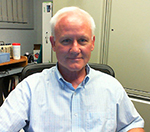 Bio:
Ronald S. Bowman Associate Professor, Business, MSJC
I've been teaching at Mt. San Jacinto College since 1998. Prior to coming to MSJC, I taught at Western Montana College in Dillon, MT (now UM-Western). Prior to teaching, I worked in both public and private accounting.
Education:
B.S. Accounting, Brigham Young University
MBA, Brigham Young University
Experience:
Associate Professor, Business, MSJC
Associate Dean, Business Services, MSJC
Associate Professor, Western Montana College
Staff Accountant, Arthur Andersen & Company
Internal Auditor, Lockheed Corporation
Office Manager, Continental Business Service
Courses:
ACCT 124 Financial Accounting – Principles of Accounting I
An introduction to the basic structure of financial accounting as it relates to business enterprises, this course covers major concepts and principles used in completing the accounting cycle, preparing typical financial statements, preparing reports using financial accounting functions, and completing financial statement analyses.
ACCT 125 Managerial Accounting-Principles of Accounting II
This elective course, intended for students with basic electronic spreadsheet skills, is an introduction to the structure of managerial accounting. Topics covered include cost analysis, cost behavior, budgeting, overhead, international accounting, cash flow analysis, differential analysis, and the use of electronic spreadsheets and other computer tools in solving accounting problems. Prerequisite: ACCT 124.