MyMSJC Account Management
MyMSJC Account Management
Overview - MyMSJC Account Management
Mt. San Jacinto College deployed a new way to login to all of your Applications such as Canvas and Self-Service. This process will require you to only login once to access many tools you need to get your work done.
MyMSJC Account Management makes password management easier for all students, faculty, and staff.
Documentation and tutorials for MyMSJC Account Management are available at Frequently Asked Questions.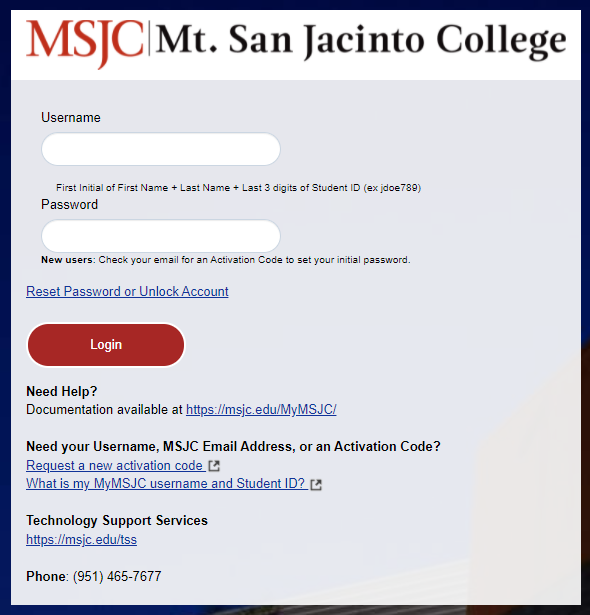 MyMSJC Account Management Login Screen
24/7 Self Service
Ability to reset your password either before or after it has expired without the need to contact Mt. San Jacinto College's Helpdesk.
Self-service for distance education, managing your passwords without having to visit any campuses.
Ability to reset your password on any computer, tablet or smartphone.
Automated alert emails when a password has been changed, to provide enhanced security.
Supported Services
Canvas
Self-Service
Cranium Cafe
Financial Aid StudentForms
Official Transcripts
IParq Parking
PaperCut
MSJC Support
MyMSJC Account Management's Password Basics
In order to ensure that every MSJC user (student, faculty, or employee) has full access to the technology resources they need while minimizing the threat of inappropriate access, MSJC uses a combination of a user name and a password. Together, they form the security credentials needed to authenticate you to campus services, such as Self-Service and Canvas.
Please protect yourself by doing the following:
Never, ever share your password with anyone.
You are the only person who should know your password. If you have trouble remembering your password, keep a copy of it in a location that only you have access to. Do not leave your password anywhere where it will be visible to other peo​ple. If you give your password to anyone, they might impersonate you, and you will be held responsible for any damage that they might do.
Keep passwords complex so that they are not easily guessed
Your new password must always satify the following rules:
Must be at least 10 characters long
Must have at least 1 numeric character
It must also satisfy any two of the rules below:
Must have at least 1 lowercase character
Must have at least 1 uppercase character
Must have at least 1 special character