Student Life & Development at MSJC
Student Life & Development at MSJC
The Office of Student Life and Development creates opportunities for students to experience an enriching extracurricular atmosphere on campus. This is done through student engagement in and outside of the classroom, which is an important aspect of student life.
---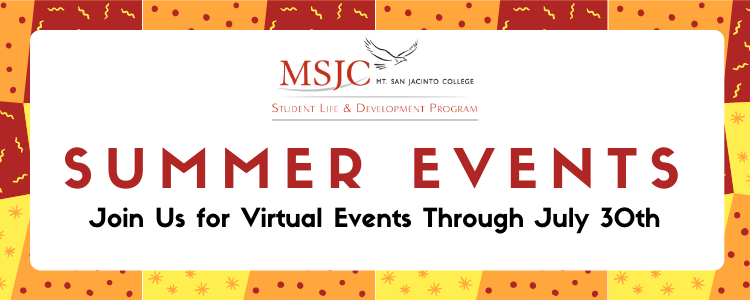 Thursdays through July 30th
6:00-7:00pm
Contact outreach@msjc.edu for more information
Wednesday, July 15th
5:00-6:00pm
Contact sldp@msjc.edu for more information
Enter for a chance to be crowned Juneteenth Royalty and win a $100, $200 or $300 scholarship, sponsored by the MSJC Foundation!
In a video or written submission, tell us what Juneteenth means to you and your plans to empower the Black Community
Rules to enter:
Must be a current MSJC student
videos must be 2 minutes or less
written submissions must be 300 words or less
content must be appropriate, no profanity or inappropriate language and behavior
Please your entries to sldp@msjc.edu by July 31st and include "Juneteenth Royalty" in the subject line.
Attend a Zoom session to learn more about how to join or start a club on campus!
Wednesdays, July 8th and 22nd
1:00-2:00pm
Contact sldp@msjc.edu for more information
Join us with your little ones for fun virtual activities via Zoom!
Monday-Thursday, June 20th - 23rd
10:00-10:30am
Contact outreach@msjc.edu for more information