MSJC Celebrates 60th Birthday of Board of Trustees
3/10/2022
Mt. San Jacinto College celebrated the 60th birthday of its Board of Trustees with the current Board of Trustees at the Menifee Valley Campus on Thursday afternoon.
The current Board of Trustees features Chair Tom Ashley; Clerk Joshua Rivera; and Trustees Vicki Carpenter, Ann Motte, and Brian Sylva.
The college district dates back to 1962, when voters in the Pass area, San Jacinto and Hemet approved the formation of a California Community College.
The first Mt. San Jacinto College Board meeting was held March 14, 1962, at Security Bank in Hemet. The historic meeting was covered by the now-defunct San Jacinto Valley Register.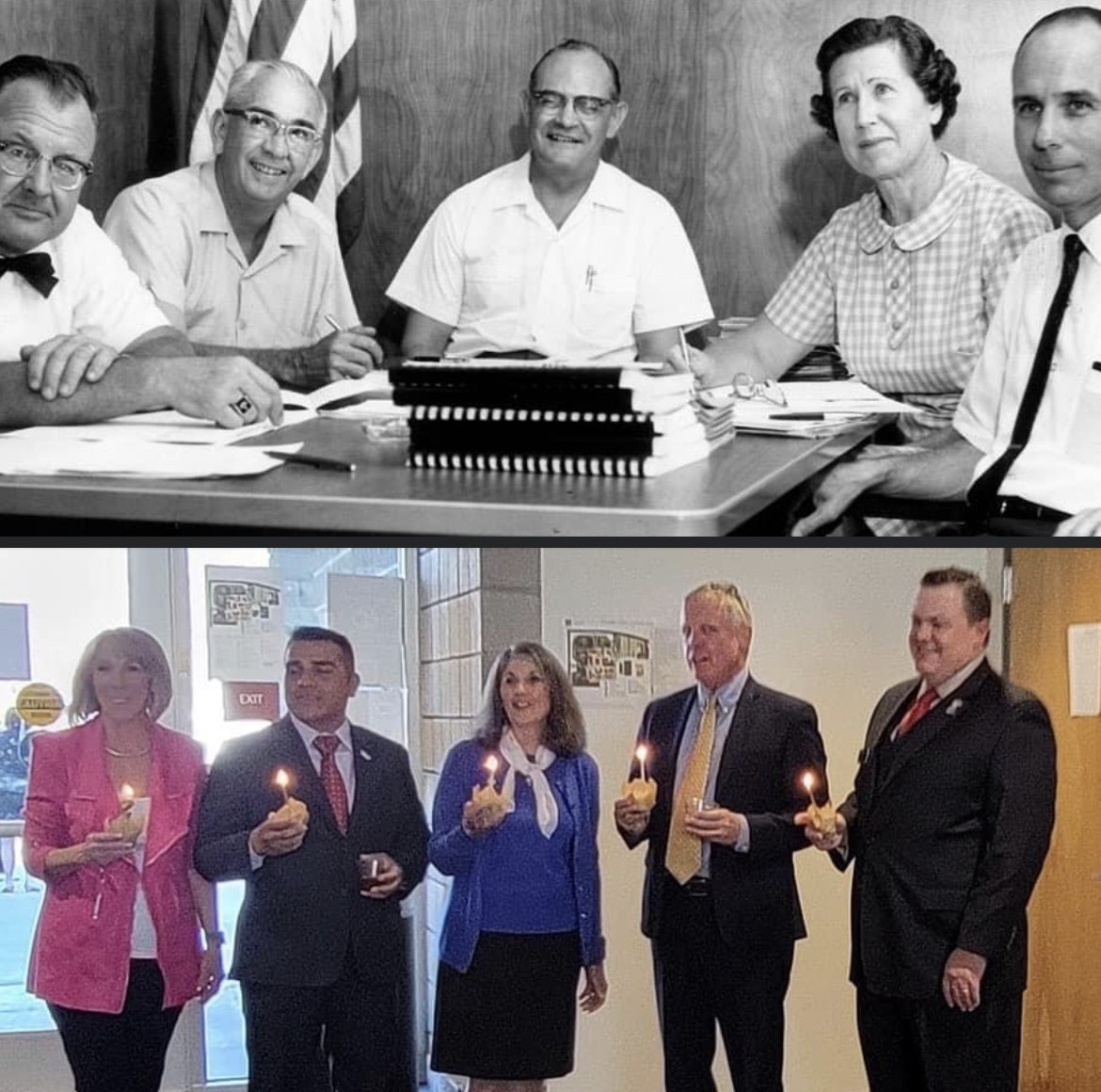 The meeting was called to order by Dr. Leonard Grindstaff, who was the Riverside County Superintendent of Schools.
The first board members were William Watson – Chair; Everett Adams – Secretary of the Board; C.O. Barker, Jr.; Rogers Cox; and Ruth Peters.
The first district employee was Claire Broyles, who served as the administrative assistant to the superintendent/president. After retiring, she served on the board of trustees.
Dr. Milo Johnson served as the district's first Superintendent/President.
MSJC did not have a campus then. In fall 1963, MSJC held its first classes for students in rented buildings in Banning and Beaumont and Hemet and San Jacinto.
The first commencement was held in 1965. There were eight graduates.
Since that first board meeting six decades ago, the district has expanded to serve the region from Menifee to Temecula, thanks to the voters. MSJC now covers 1,700 square miles with four campuses conveniently located to serve the entire region.
The graduating class has grown from the original eight to a record-breaking 2,173 graduates in the Class of 2021 last May.
At Thursday's celebration at the Menifee Valley Campus, Dr. Roger Schultz, MSJC Superintendent/President, spoke to the current Board of Trustees, faculty and classified professionals.
"It gives me pleasure to announce that this meeting marks a special occasion," he said. "It has been 60 years since the first Mt. San Jacinto Community College District Board of Trustees met to set the course for higher education to serve residents of this region.
"It's an honor to be the Superintendent/President at MSJC and to work alongside our faculty, classified professionals and our current Board of Trustees to carry on and expand the vision of those early leaders. We will celebrate MSJC's 60th anniversary in 2023, but today, I would like to wish the Board a happy 60th anniversary."