MSJC Hosts Dance Touring Ensemble in Concert Nov. 22-24
The Mt. San Jacinto College Department of Dance proudly presents Dance Touring Ensemble, featuring original choreographic works created by MSJC students and faculty.
The dancers will perform at 7:30 p.m. Nov. 22 and 23, and 2:30 p.m. Nov. 24, in the San Jacinto Campus Theater (Building 1500), 1499 N. State St., San Jacinto.
The students explore a diverse range of dance styles from hip hop to contemporary in this eclectic dance concert. The three performances wrap up a popular tour that featured 15 performances in the community, including five elementary schools, a middle school, and six high schools.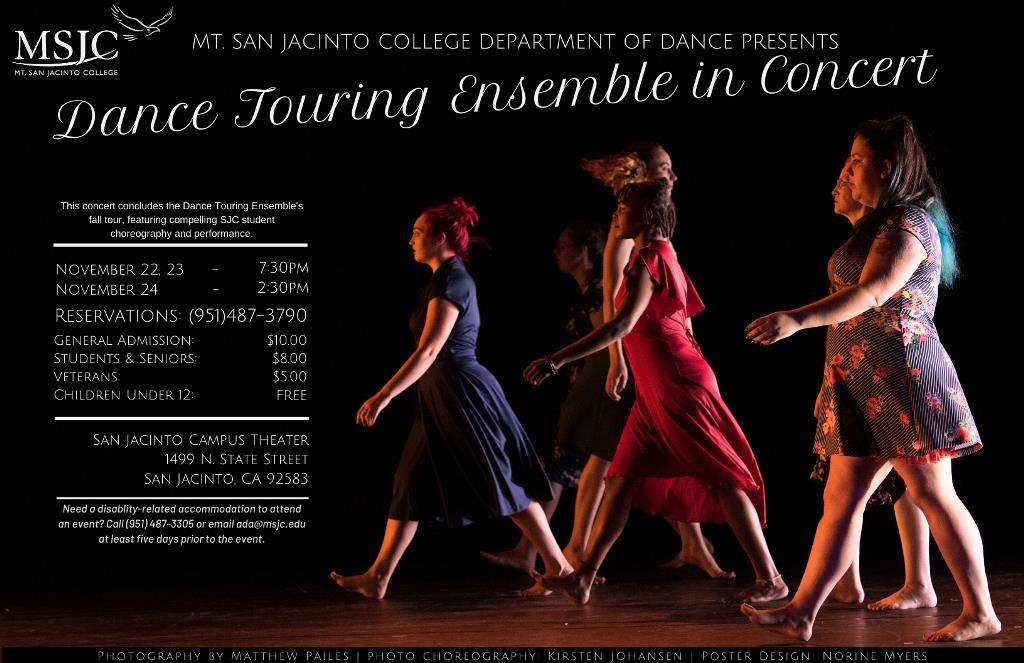 Tickets are $10 for the general public; $8 for students with their SGA cards and seniors; $5 for veterans.
For more information, email MSJC Dance Chair Julie Freeman at jfreeman@msjc.edu or visit the online box office.
See a calendar list of all of the MSJC Performing Arts events.
Mt. San Jacinto College serves about 27,000 students in a district covering 1,700 square miles from the San Gorgonio Pass to Temecula, with campuses in San Jacinto, Menifee, Banning and Temecula.

In May 2019, Mt. San Jacinto College awarded a record-breaking 3,314 degrees and certificates to 1,707 graduates.

Have a wonderful day and please follow MSJC on social media – Facebook, Twitter and Instagram.