MSJC Celebrated Record-Breaking Commencement Class of 2019
May 24, 2019
Shelby Walker, her husband and their two children were homeless just a few years ago.
The San Jacinto resident was tired of relying on government aid and realized something needed to change.
"So I decided to come back to school and I'm now graduating from MSJC after only two years and was accepted to everywhere I applied," said Walker, a 25-year-old Communications major who next plans to get her bachelor's and master's degrees and hopes to return to Mt. San Jacinto College to teach someday. "Words cannot express how I'm feeling. I am so excited and cannot wait to move my tassel when I cross that stage."
On Thursday, May 23, Walker joined the largest graduating class in Mt. San Jacinto College history. She was one of four graduates who served as student speakers at the two commencement ceremonies held at Pechanga Resort Casino in Temecula.
Mt. San Jacinto College awarded a record-breaking 3,314 degrees and certificates to 1,707 graduates. That's nearly 800 more degrees and certificates than last year. The graduates earned a total of 2,985 associate degrees and 329 career certificates, as some students earn more than one degree, certificate or a combination. The number of graduates rose by about 200 compared to last year's total. The large increases are attributed to a concerted MSJC outreach effort to alert students when they're eligible to graduate.
This was the first year the college hosted two ceremonies in order to accommodate the growing number of graduates and their guests. It was the second year commencement was held at Pechanga.
Mt. San Jacinto College serves about 26,000 students in a district covering 1,700 square miles from the San Gorgonio Pass to Temecula.
Like Walker, MSJC nursing graduate Tichona White also illustrated this year's commencement theme: "MSJC Eagles Rise: Transforming the Future."
"It's overwhelming. … I can't believe I made it," said White, a 28-year-old Hemet resident. The honors student earned an Associate of Science in Nursing (ADN) while raising children and being homeless at one point. "I didn't think this would happen, but I did it. I made it past every obstacle thrown my way."
This week's achievement has been a long time coming for Kim Krausert, a 57-year-old Murrieta resident who earned associate degrees in Studio Art and Liberal Arts.
"Whew. I did it!" the honors student said. "As a full-time employee and full-time student, it has been a long, sometimes difficult ride. I am happy to move to the next chapter of my education."
Krausert, who earned the President's Award of Excellence in Art at MSJC, plans to attend the University of North Carolina at Charlotte, where she plans to earn a bachelor's degree in art with a concentration in education. She then plans to earn a master's degree in order to teach art at a university.
Melissa Ochoa, 43, first attended community college in 1995. Four community colleges and nearly 25 years later, the Yucaipa resident will graduate from MSJC with two associate's degrees – Administration of Justice and Social & Behavioral Sciences – and a certificate in Administration of Justice.
And she did it all while still balancing being a mother of two and a volunteer for many nonprofit organizations.
"MSJC was my home away from home," Ochoa said. "It felt like forever, but I did it after all these years! If I can do it, so can you!"
MSJC's summer 2019 registration is open. The eight-week summer session starts on June 3 and six-week session starts on June 17. For more information on getting started this summer, call (951) 639-5313.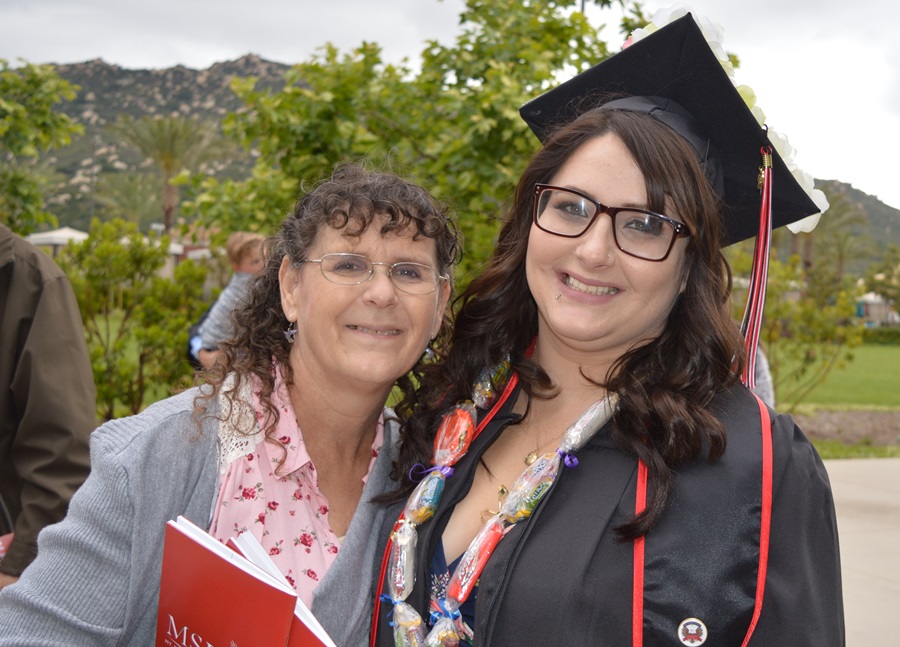 MSJC graduate and student speaker Shelby Walker (right) with her mom Patrice.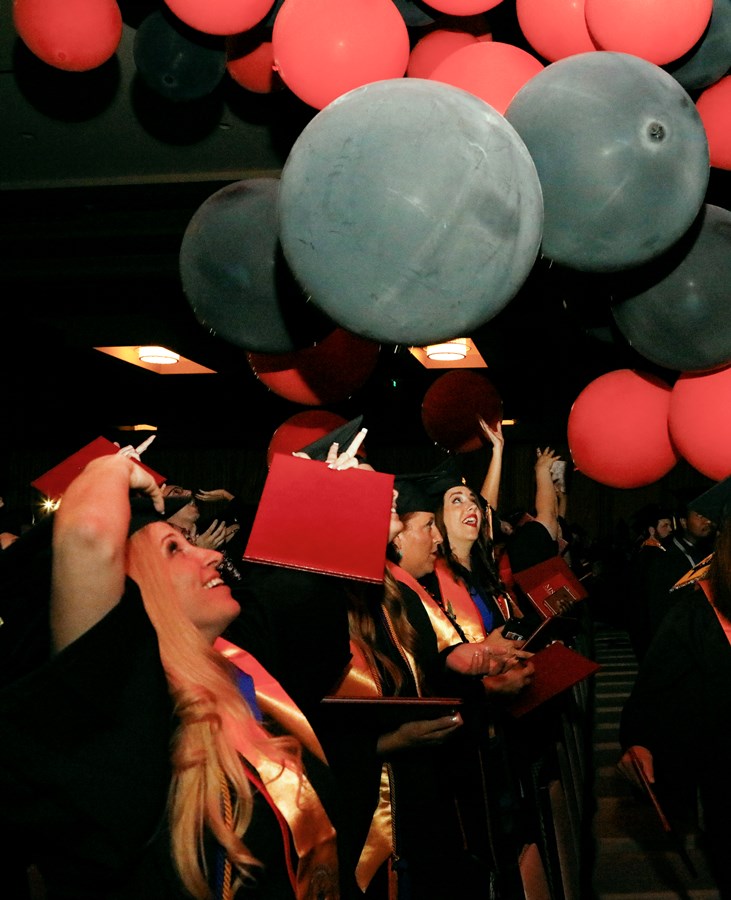 1:
Students celebrate during the balloon drop at the closing of Mt. San Jacinto College's 2019 Commencement on Thursday.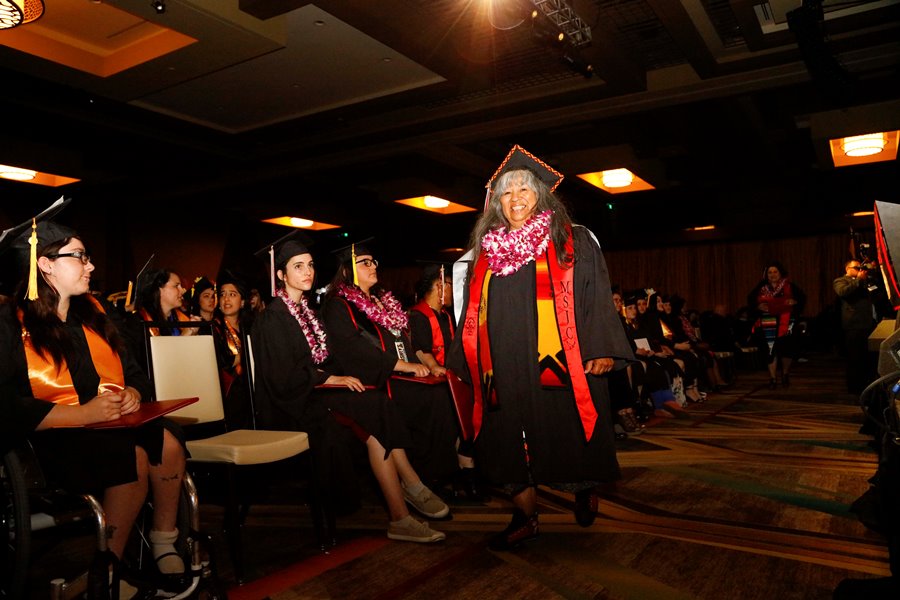 Marguerite Pablo walks past fellow students to receive her diploma during Mt. San Jacinto College's 2019 Commencement on Thursday.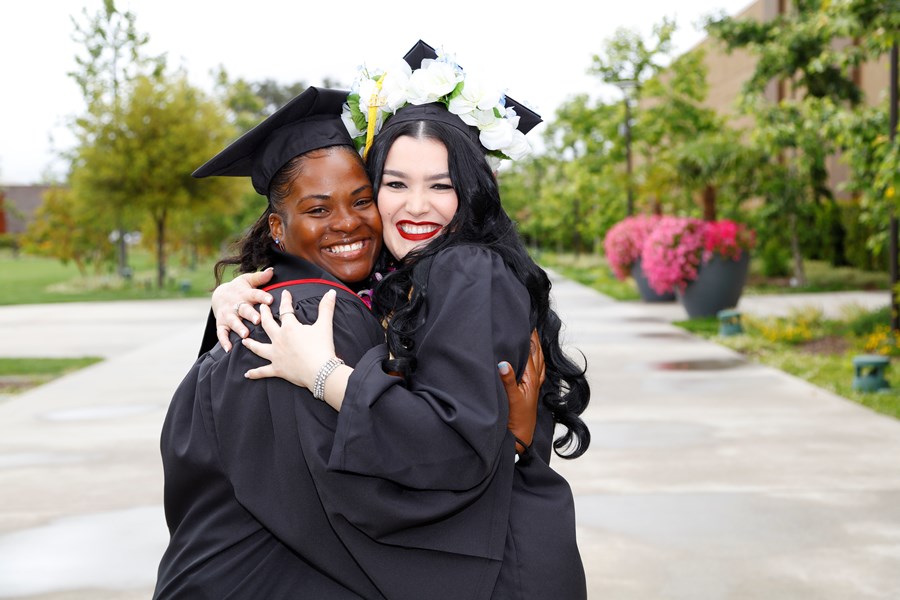 Alicia Ausby and Payton Perez hug before receiving their diplomas at Mt. San Jacinto College's 2019 Commencement on Thursday.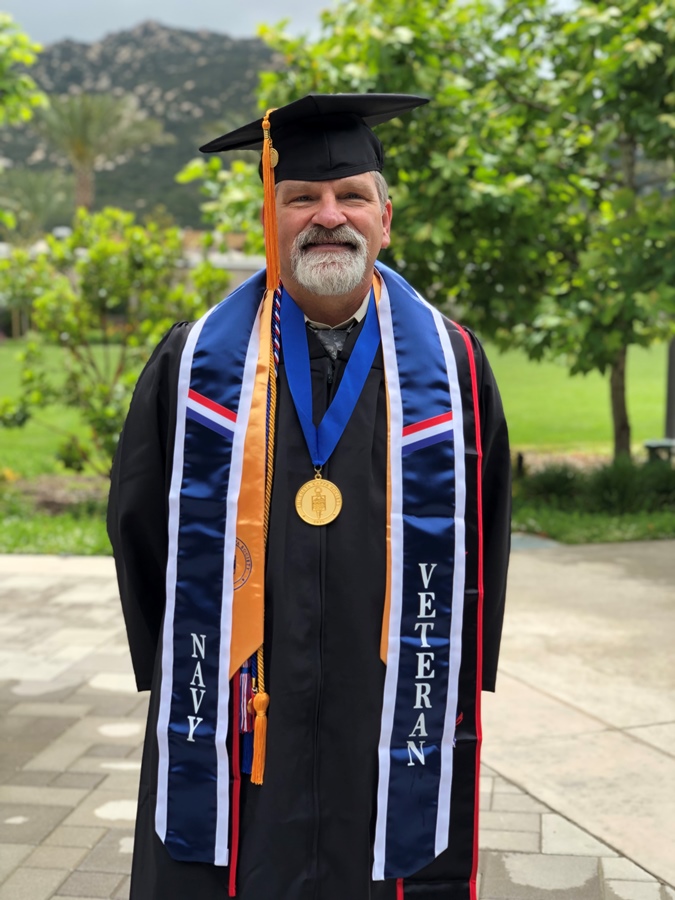 Navy veteran Lee McIntire gets ready to pose for a portrait during Mt. San Jacinto College's 2019 Commencement on Thursday.

Rachel Abelgas, one of the student speakers during Mt. San Jacinto College's 2019 Commencement on Thursday, celebrates with her family after receiving her diploma.