MSJC Earns 'Military Friendly Spouse School' Designation
4/28/2021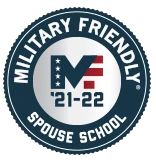 Mt. San Jacinto College (MSJC) has been named a "Military Friendly Spouse School" for 2021-2022 for its efforts in creating sustainable and meaningful education paths for military spouses.
In February, the college also earned the "Military Friendly" designation that measures a school's commitment to student veteran and dependent recruitment, persistence, and success. The college earned the "silver" distinction, a high honor that only a select group of institutions achieve.
This prestigious list is created using data sources from federal agencies and proprietary survey information from participating organizations to create a comprehensive guide for military spouses looking to further their education.
Now in its 12th year, the Military Friendly Schools list has come to set the standard for higher education institutions to provide the best opportunities for veterans and their dependents.
Military students and military spouses attending MSJC benefit from an array of college-wide support services, including the MSJC Veterans Resource Centers on the Menifee Valley and San Jacinto campuses. The centers support the transition and success of MSJC military students and their spouses.
Please contact Veterans@msjc.edu for additional information.​​​