Rededication of 9/11 Mural Set for Sept. 9 at Hemet Fire Station
97/2021
A 9/11 mural first created in 2004 at Hemet Fire Station No. 1 will be rededicated in a public event at 7 p.m. Thursday, Sept. 9, following a refresh by Mt. San Jacinto College (MSJC) art students.
MSJC students Mario Herrera of Menifee, Diana Meléndez of Murrieta, Rhonda Taube of Riverside, and Vanessa Pellegrin of San Jacinto used their talents to touch up the 9/11 mural on Juanita Street over the past month to finish it ahead of the 20th anniversary of the terrorist attacks on Saturday, Sept. 11.
Hemet Fire Department firefighter/paramedic Dan Sprague watched as the students carefully painted the mural in August.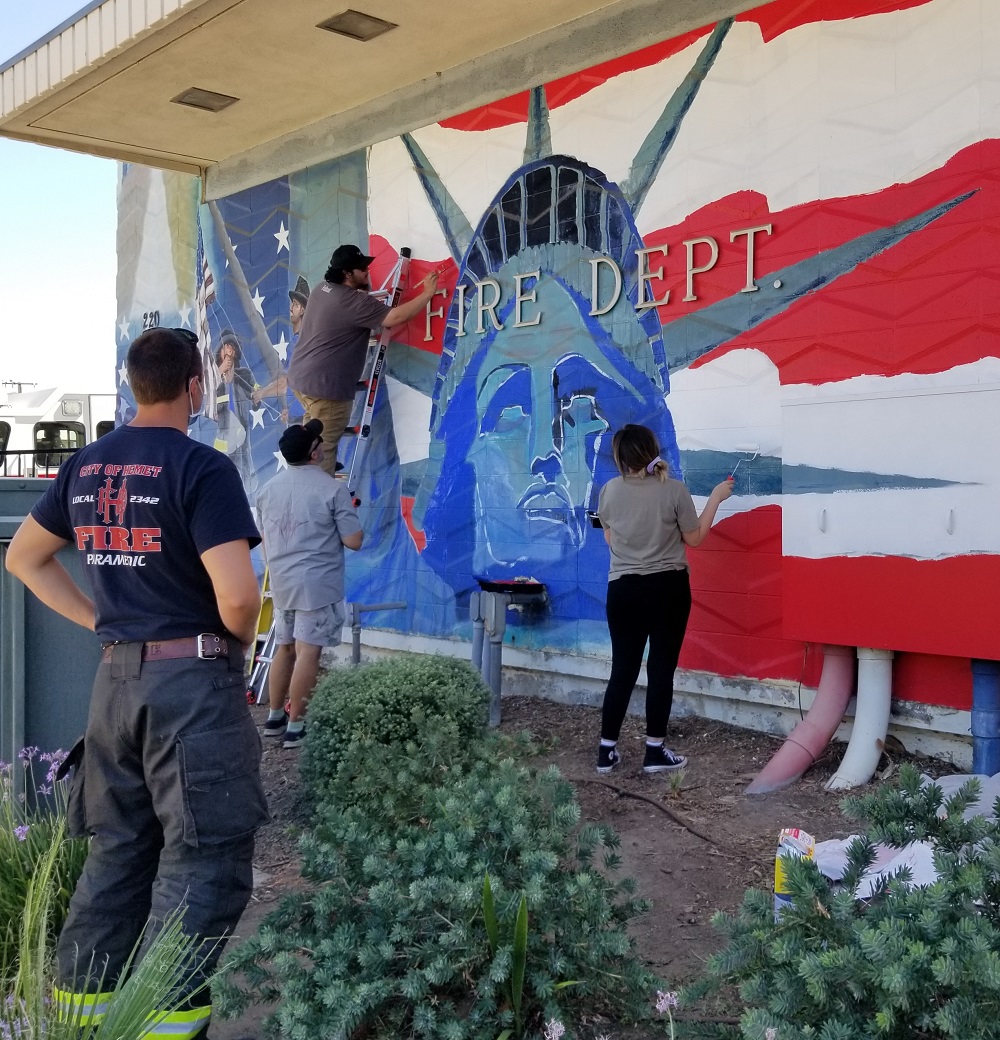 "Thank you for redoing this and making it look real nice," he said. "It's nice to see some life in it."
The students were careful to preserve the signed names of the original artists, which can be seen on the righthand side of the mural.
MSJC art instructor Chet Glaze praised Hemet Rotary, which funded the refresh.
"Hemet Rotary has been absolutely amazing," he said. "They have supported us with equipment, restrooms and just coming out to talk to us while we worked."
The Rotary paid for the supplies and provided $100 scholarships to the two students.
"It's a real benefit for the students," Glaze said. "Not only are they getting a really critical opportunity for community service, which is hard to come by sometimes in art, but also they're learning a valuable and very marketable skill in mural painting."
Glaze said MSJC offers mural painting classes some semesters.
The public and media are welcome to attend the rededication at 7 p.m. Thursday, Sept. 9, at Hemet Fire Station No. 1, 220 N. Juanita St., Hemet.