MSJC to Host Pride Week Events in October
Mt. San Jacinto College will host several virtual events and a drive-in movie presentation of "Milk" during its second annual MSJC Pride Week starting Oct. 6.
This year's celebration will focus on the theme "Know Your History!" and will center on the intersectional history of LGBTQ+ liberation. The public is welcome to attend several virtual events via YouTube and in person at Tuesday's drive-in movie event.
The celebration will kick off at 4 p.m. Tuesday, Oct. 6, when the MSJC Dance Department helps coordinate a vogueing workshop with London Escada, Mother of the House of Escada from HBO's "Legendary" reality competition series.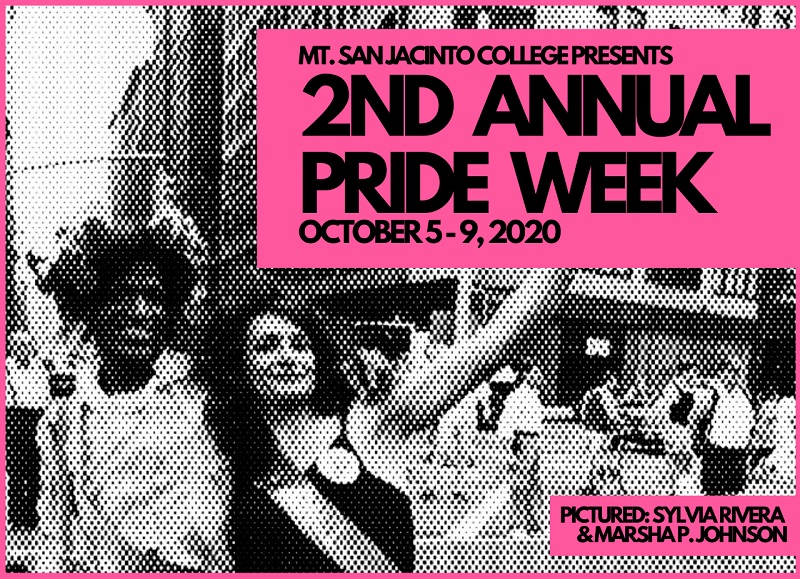 "Milk" -- the 2008 Oscar-nominated film starring Sean Penn as gay rights activist and politician Harvey Milk -- airs at dusk Tuesday, Oct. 6, at the college's Menifee Valley Campus. The public can visit the MSJC Cruz-In at the College Campus drive-in movie series website to reserve free tickets to the presentation coordinated by the MSJC Foundation.
At noon Wednesday, Oct. 7, join a Cookalong Recipe Tutorial and Chat with Esteban Castillo, LGBTQ+ Author of "Chicano Eats." Helping coordinate the event is the MSJC Puente Program as part of Latinx Heritage Month. A Coming Out Forum will follow later at 5:30 p.m.
The week continues at 7 p.m. Thursday, Oct. 8, with the "Letting Others In Drag Show," with performers Mayhem Miller, Landon Cider, Jazmyn Simone-Echelon, Nomi B and Nebuer Styles.
MSJC Pride Week will wrap up at 5:30 p.m. Friday, October 9, with a "Mask-erade Ball" hosted by SAGA (Sexuality and Gender Alliance), a student group based on the Menifee Valley Campus.
Learn more about the week at www.msjc.edu/pride
Those who are looking to enroll at MSJC can sign up now for 8-week, late-start courses that begin on Oct. 19. Please call (951) 639-5313 or visit www.msjc.edu/schedule
Mt. San Jacinto College serves about 27,000 students annually in a district covering 1,700 square miles from the San Gorgonio Pass to Temecula, with campuses in San Jacinto, Menifee, Banning and Temecula.
In May 2020, MSJC awarded a record-breaking 3,554 degrees and certificates to 1,958 graduates.