Joshua Rivera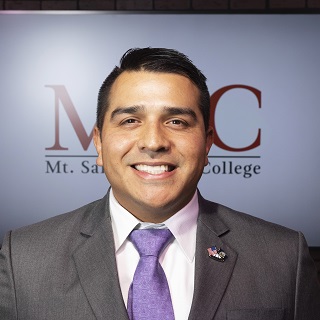 he/him/his 
Trustee Joshua Rivera was first elected to the Mt. San Jacinto Community College District Board of Trustees in November 2020. Mr. Rivera represented Trustee Area 2.  
Mt. San Jacinto College Board Chair Joshua Rivera announced his resignation during the regular Board of Trustees meeting on September 14, 2023. His resignation was effective September 15, 2023.
Mr. Rivera is a proud alumnus of MSJC. He and his two brothers participated in MSJC's Upward Bound program, which provides eligible youth with support to succeed as college students. He continued the MSJC dual enrollment program, which allowed him to complete MSJC courses while still attending San Jacinto High School. Mr. Rivera served in the military and then returned to MSJC to complete his associate degree in Liberal Arts. He transferred to the University of California, Riverside and earned a bachelor's degree in Chicano Studies. 
Mr. Rivera's occupational background includes being a small business owner, work at the University of California, Riverside and serving as a Riverside County park ranger. 
Mr. Rivera's volunteer work includes serving as a mentor with MSJC's Puente Program and working with the Huerta Del Valle Community Garden. 
Mr. Rivera was especially passionate about MSJC's Strategic Goals 1, 2 and 5: 
Goal 1:  Promote, encourage, and create a culture of racial equity, diversity, and inclusion to address and eliminate systemic racism, academic barriers, and educational injustice through implementation of culturally responsive and affirming practices.
Goal 2:  Create Structured Educational Experiences that Support Students from Point of Entry to timely and efficient Attainment of Educational Goal in both on campus and distance education environments.
Goal 5:  Partner with local business, industry, cities, and communities to increase experiential opportunities for student to explore, transition to, or promote within the regional workforce.
His hobbies are farming, art, reading, and running. His areas of interest are agriculture, arts, and writing.