Vicki Carpenter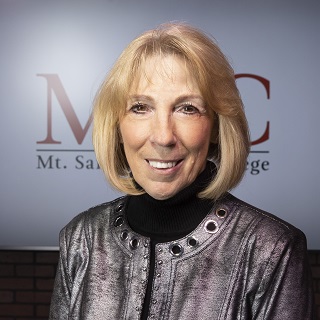 Trustee Vicki Carpenter was first appointed to the Mt. San Jacinto Community College District Board of Trustees in September 2018 and was formally elected in November 2018. Mrs. Carpenter represents Trustee Area 3. 
The Menifee resident attended community college and began her career as a paralegal for a local law firm before transitioning into real estate in 1991. She is a longtime real estate agent with Coldwell Banker, where she also serves as Director of Training and is a part of the management team.
Trustee Carpenter serves and has served on numerous community boards in leadership roles, and is a past president of the Menifee Valley Chamber of Commerce, Menifee Valley Medical Center Foundation, MSJC Foundation, and Inland Valley Association of Realtors.  She currently is president of Rotary Club of Menifee, including serving as a state director with the California Association of Realtors.  She is a recipient of Senator Morrell's Woman of the Year 2021, and Menifee Citizen of the Year 2013.
Trustee Carpenter is passionate about all of Mt. San Jacinto College District Strategic Goals as adopted and supported by the board.
Goal 1:

Promote, encourage, and create a culture of racial equity, diversity, and inclusion to address and eliminate systemic racism, academic barriers, and educational injustice through implementation of culturally responsive and affirming practices.

Goal 2:

 Create Structured Educational Experiences that Support Students from Point of Entry to timely and efficient Attainment of Educational Goal in both on campus and distance education environments.

Goal 3:

Implement, strengthen, and transform curriculum, classroom management, and academic and student support services to focus on the success and retention of our highest priority students in both on campus and distance education environments .

Goal 4

: Foster an institutional climate that promotes inclusivity, is welcoming and engaging, and creates community and belonging for students, faculty, and staff.

Goal 5: 

Partner with local business, industry, cities, and communities to increase experiential opportunities for student to explore, transition to, or promote within the regional workforce.

Goal 6:

 Strategic Enrollment, Planning, and Fiscal Responsibility: Support the optimization of strategic enrollment management, planning, and student success to ensure fiscal viability.

Goal 7:

Facilities Planning and Improvement – Provide facilities at all locations that are inviting, accessible, and safe.
Trustee Carpenter is a widow, mother / step mother of nine children, with a blended family of grandchildren and great-grandchildren.  She lovingly shares memories about her late husband Thomas Martin Carpenter, a local attorney, who was as devoted to serving the community as is Trustee Carpenter.