Rich Rowley Award for Excellence in Communication Studies
Rich Rowley Award for Excellence in Communication Studies
Rich Rowley Award For Excellence In Communication Studies
---
About the Award
Each year the Communication Studies department presents the Rich Rowley Award for Excellence in Communication Studies award to a student who demonstrates exceptional scholarship and service to the department, college, and community.
Current Awardees

Menifee Valley Campus winner Alec Gonzalez, Dr. Michele Weber, San Jacinto campus winner Shelby Walker, Director Karin Marriott
Past Awardees
In 2017/2018 the award went one winner at each main campus.
The winner for the Menifee campus was Dayna Doidge. According to her professors, she often goes above an​d beyond for her fellow classmates, demonstrates leadership skills, and is a very dedicated student who always has a positive attitude, no matter what challenges she faces. She attends MSJC as a full time student and is a full time employee who plans to transfer to CSUSB.
Christos Malandrinos was the winner for the San Jacinto Campus. He is majoring in Liberal Arts and will transfer next year into a linguistics program. As a member of the Forensics team, Chris is an award winning debater, competes in individual events, and acts as judge for the MSJC Speech Tournament. He also served as the editor-in-chief of the Talon newspaper last semester and currently serves as the ICC representative for the club. In his spare time Chris is a Supplemental Instruction Leader in English at the San Jacinto campus and an English and Communication Studies tutor in the Menifee LRC.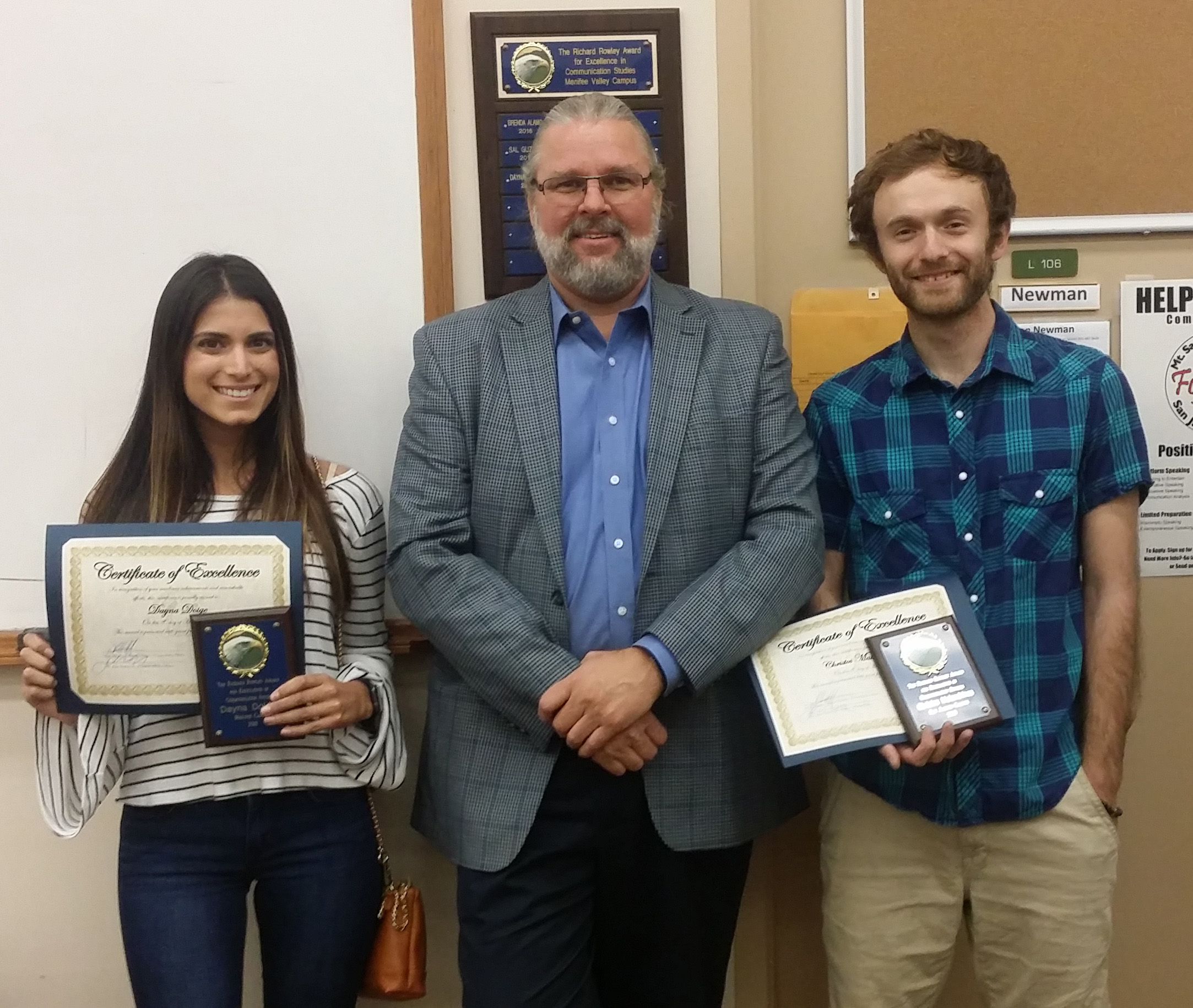 2017/2018 Menifee Campus winner Dayna Doidge, Assistant
Professor Ron
Newman, and San Jacinto Campus winner Christos Malandrinos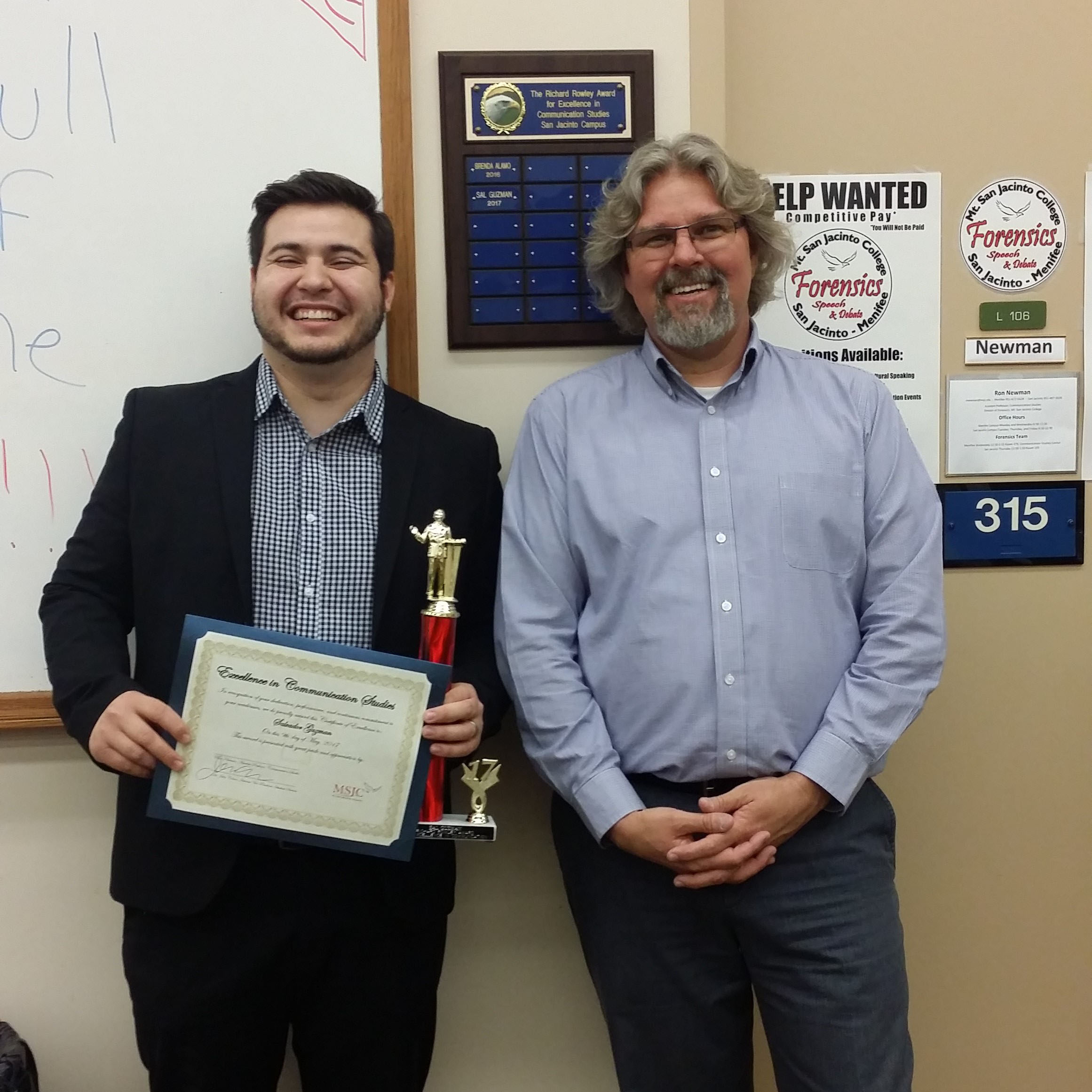 2016/2017 winner Sal Guzman and Assistant Professor Ron Newman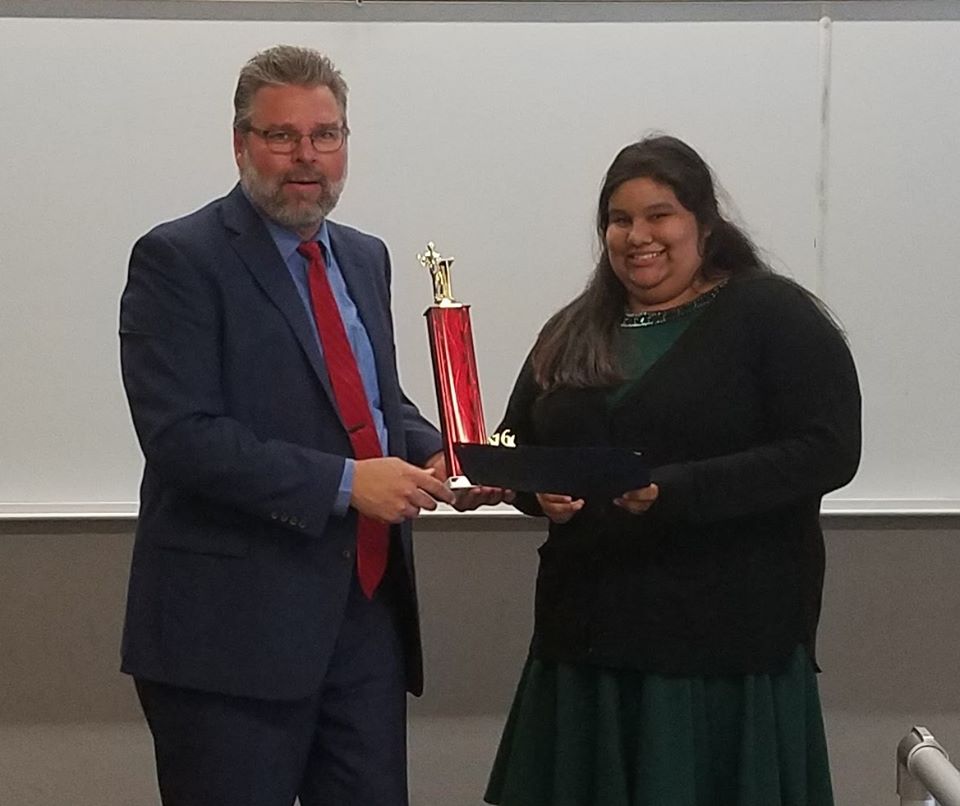 Assistant Professor Ron Newman and 2015/2016 winner Brenda Alamo