Academic Counseling Services
Academic Counseling Services
Counseling staff utilize their expertise to:
Provide information regarding Mt. San Jacinto College's academic procedures, programs, and services.
Provide students seeking assistance with scheduling or clarification of requirements for graduation or transfer.
Help students clarify their academic goals, select major, and develop realistic academic work loads.
Provide information on occupational and transfer programs, including general education and major course requirements.
Help students develop educational plans that satisfy graduation and transfer requirements.
Provide workshops and services that will assist students as they move to a four-year institution.
Educational and Academic Planning
It is the student's responsibility to participate in the development of an educational plan within 90 days after declaring a specific educational goal. In other words, within 3 months after declaring a specific goal for your education, you need to meet with a counselor and develop an educational plan to outline the classes needed to complete your goal.

What is an Educational Plan?
Developing an educational plan involves selecting classes that will meet each requirement of your educational goal and may also include planning your course selections for upcoming terms. To ensure you are following the path to a successful completion we suggest that you update your educational plan every semester.
If Your Educational Goal is a(n) ...
Your Educational Plan Will Include...

Certificate or Employment Concentration

Classes that complete the certificate core and elective course requirements.

AA/AS Degree

AA/AS general education courses and
required and elective courses for the major.

Bachelor's Degree without completing an AA/AS Degree

Transferable general education courses (CSU or IGETC pattern). This should include transferable major preparation courses.

Bachelor's Degree with an AA/AS Degree

Courses that meet:

AA/AS general education pattern requirements and
Transferable general education requirements (CSU or IGETC pattern) and
Required and elective requirements for the AA/AS major WITH
Transferable major preparation
General Education Patterns
General education patterns are a complete listing of approved courses that will satisfy the general education requirements for an associate degree or transfer program.
Three general education patterns are available to satisfy the degree requirements: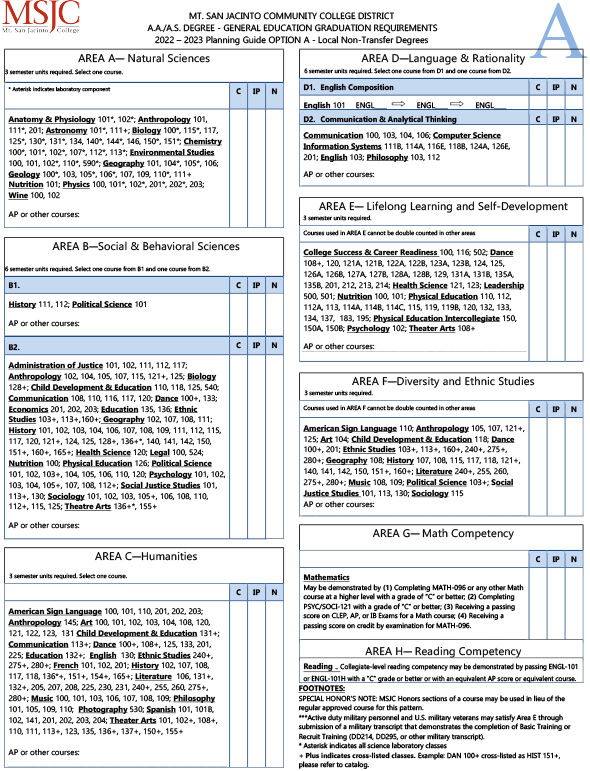 Option A
General education requirements for an AA/AS Degree.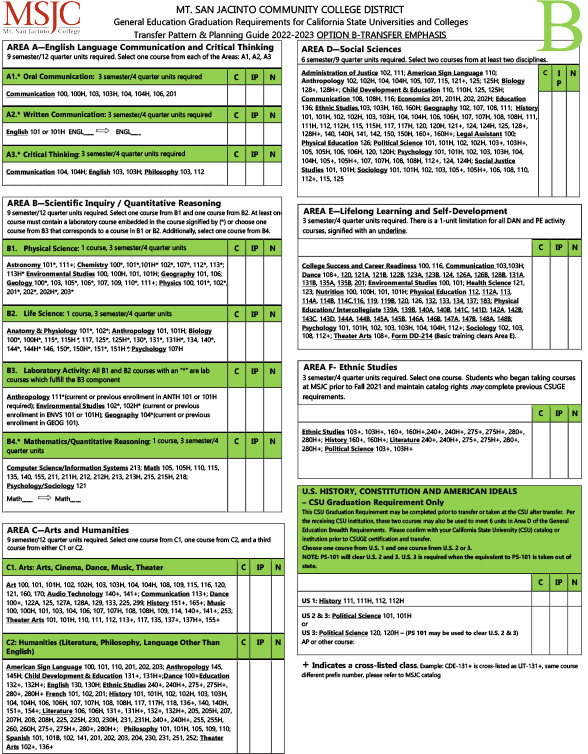 Option B
General education requirements for California State Universities and Colleges - the transfer curriculum which fulfills the lower division general education requirements for CSU.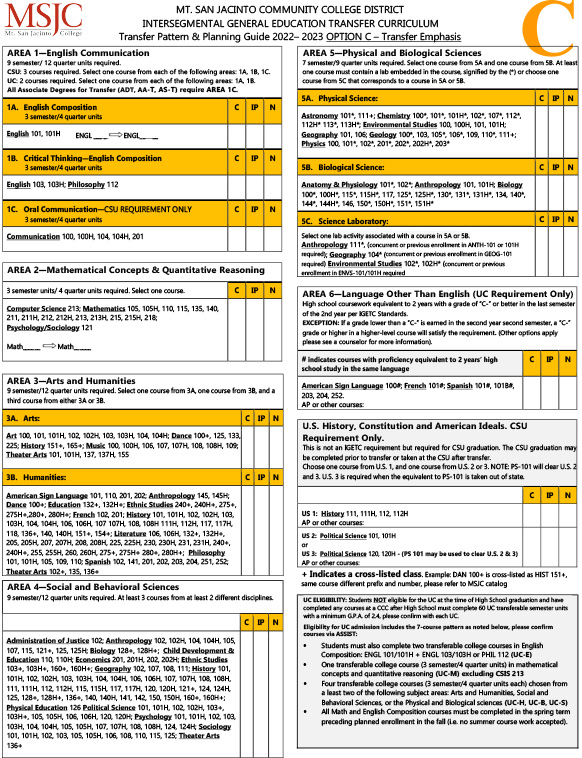 Option C
Intersegmental General Education Transfer Curriculum (IGETC) pattern - the transfer curriculum which fulfills the lower division general education requirements of both the UC and the CSU.
Working together with a counselor will assure that your educational plan meets all your educational goal requirements. An educational plan will help you stay on target as you reach your educational goals. Call us to schedule an appointment for an educational plan.