Counseling Department at MSJC
Counseling Department at MSJC
Counseling at MSJC is about more than helping you map out your course schedules to stay on track for graduation.
You can receive academic, career, transfer, personal and crisis counseling at our office. Our counselor appointments are available over the phone, virtual, on-campus at all campuses and quick questions can be asked in the virtual lobby.
***We are flexible. If you would like to change how you are scheduled to meet with your counselor (online, by phone, in-person), email counseling@msjc.edu, or call the Counseling Department at 951-465-7927 for assistance.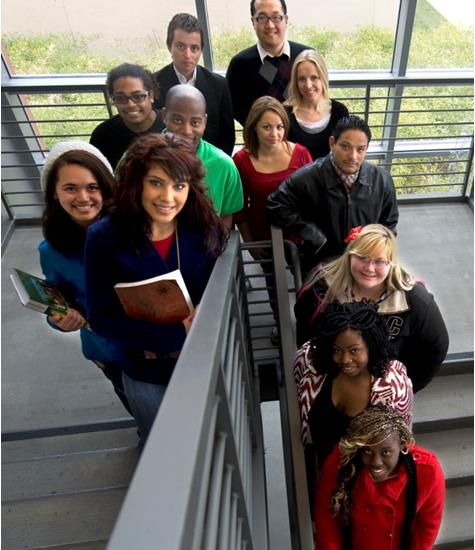 If you have a phone appointment: You will receive a call from the counselor. Make sure you have your MSJC ID# and are able to write down notes as the counselor assist you with your questions. Please note that phone appointments are limited because counselors are not able to share their screen. However, they will send an email at the conclusion of the appointment to share documents and/or links.
If you have a virtual appointment: You will use the link provided in an email or log into Cranium platform (https://msjc.craniumcafe.com/login). Make sure your mic and camera are enabled to allow a counselor to provide you with the best support.
If you have a on-campus appointment: Make sure you arrive at your assigned campus 10 minutes early to your appointment, with identification. The counselor office location will be included in your appointment confirmation email.
Temecula Valley Campus (TVC) - Students can check in at the 1st Floor front desk. Counselors are located on the 2nd floor. Welcome Center is located on the first floor.
San Jacinto Campus (SJC) - Our Counseling Department Building is under construction. Counseling is now located in building 1100, Instruction Office. Students can get help finding their counselor's office at the Welcome Center, located inside the Library, building 300.
Menifee Valley Campus (MVC) - We are happy to help you in building 100, Counseling Office. Welcome Center is located in the Counseling Office.
Do you have a quick question: Express Appointments are available and quick questions can be answered without the need to schedule an appointment, please use our Virtual Lobby.
1 semester educational plans
Declare a major
Assistance with student petitions
Verify you are ready to graduate
Questions that require brief answers
Referrals to other programs and/or services
Clear a prerequisite (You must have transcripts submitted or ready to share)
***Have transcripts, AP, IB credit ready to share with the ​counselor
**Lobby hours are subject to change; please enter lobby to view daily hours.
If you are on campus and don't have a computer, there are student computers available in the Welcome Center at all campus locations.
Enter the Counseling Virtual Lobby
Please note: The chat feature is compatible with Chrome and Firefox browsers only.
New students that have NEVER attended a college are required to participate in a New Student Counseling Session to develop their educational plan. Counseling Appointments are currently scheduled up to two weeks in advance; however, students can schedule an appointment online. We encourage students to meet with a counselor once a semester.
If you're on academic probation or facing dismissal, please make a one-hour appointment with a counselor to discuss your options for continuing your education at MSJC.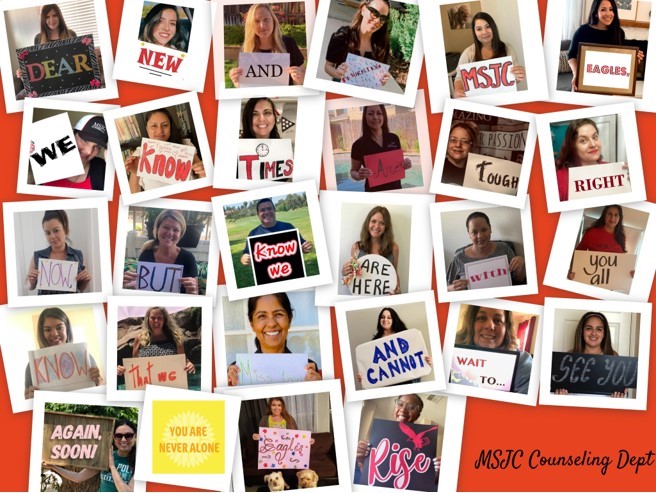 Additional counseling services:
Click here for Personal Counseling
Counseling services hours:
During the summer semester (June & July) we are closed on Friday. Counseling appointments can be scheduled up to two weeks in advance.
Please visit us at our student support hub.
This information is subject to change. If you have any questions, please contact the Counseling Department.
Administrative Contact
Citlali Gonzales
Associate Dean of Counseling


Mary Lou Dillard
Director of Counseling


Cynthia Prentice
Administrative Associate III


Carla Jackson
Administrative Associate II


Dena Lewis
Administrative Associate II


Janet Evans
Administrative Associate II


Rosa Jimenez
Administrative Associate II
Please visit us at our Student Support Hub.