Associate Degree Nursing Program
Associate Degree Nursing Program
NOTE: Candidate selection is still in progress and you will be notified no later than December 8, 2023. If you have not heard from us by December 8, please check back here for any updates or contact us at NursingandAH@msjc.edu or 951-639-5577.
---
Effective Spring 2022 Semester
All students applying for Nursing, DMS and MA are required to have proof of completed COVID-19 vaccine and booster. This is a requirement to enter clinical facilities while taking Nursing and Allied Health classes at MSJC.
Program Philosophy
---
The philosophy of the Associate of Science Degree, Registered Nursing Program focuses on the individual needs of the students and patients, within the context of families, communities and environments who exist on a health continuum. Learning occurs via a dynamic engaged process that prepares the learner to function effectively as an entry level registered nurse within nursing and inter-professional teams.
Mission Statement
---
The mission of the Associate of Science Degree Nursing Program is to prepare entry-level registered nurses to function effectively within nursing and inter-professional teams. These graduates will deliver patient centered care to culturally diverse populations in a variety of healthcare settings. Graduates will be effective communicators and demonstrate a commitment to lifelong learning.
We respect the individuality of students and recognize that each student has different learning styles, educational, experiential, cultural, spiritual, economic, and social backgrounds, and a unique support system. The goal of the program is to promote student success in a positive and innovative learning environment that empowers students to develop critical thinking and problem-solving skills to enhance clinical reasoning and decision making that result in positive patient outcomes.
Academic Program
---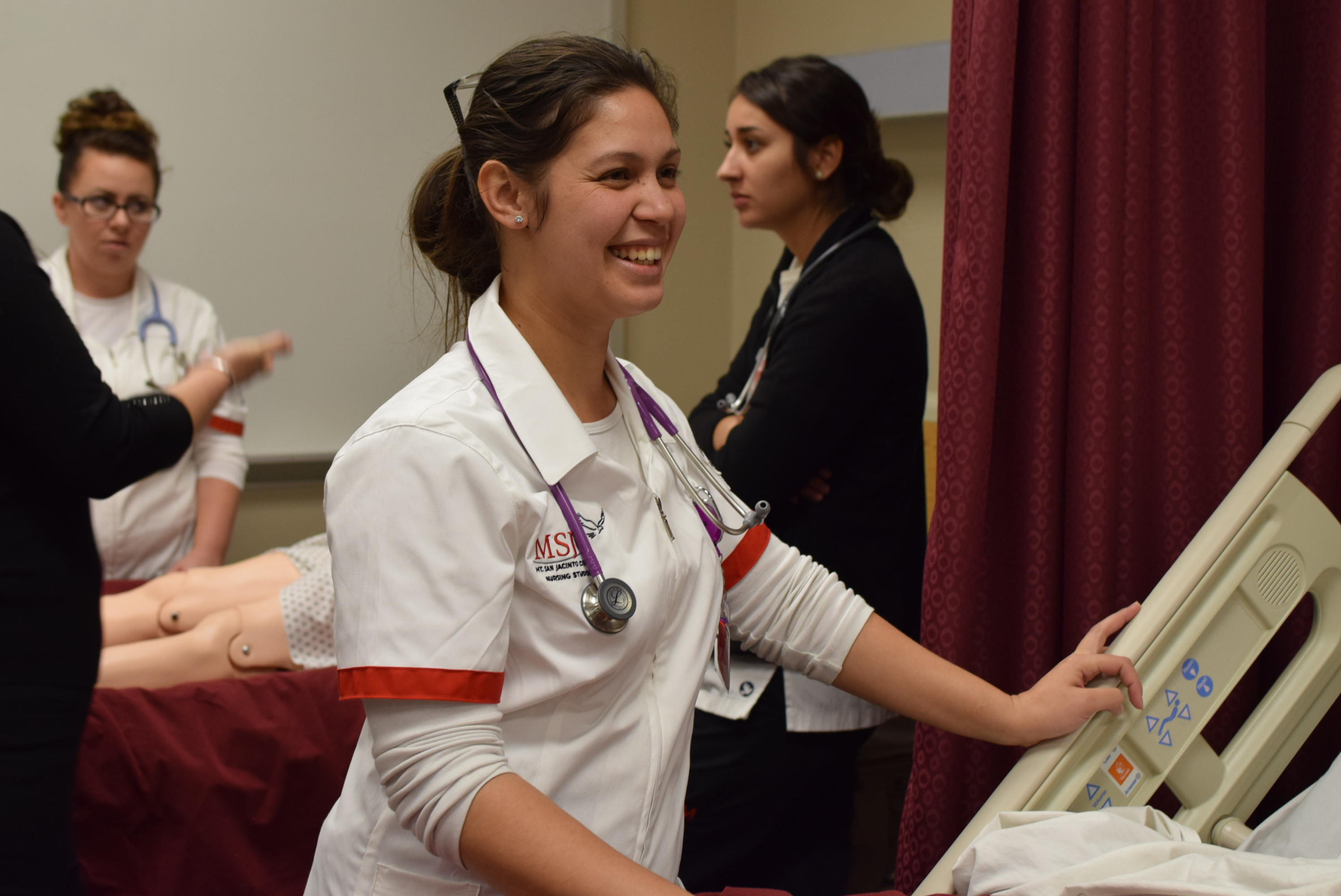 Nursing is a career in which trained healthcare professionals provide compassionate care to individuals of all ages. Nurses treat patients by establishing a care plan that fits each individual patient's needs. Nurses also educate their patients and the public about how to manage their health by discussing with their patient proper nutrition and exercise and about their prescribed medications. They also provide emotional support and advice to the patient and their family. Additionally, nurses promote the general health and well-being of the public by educating their communities.
Mt. San Jacinto College's Associate Degree in Nursing Program (ADN) prepares students for a successful career as a Registered Nurse (RN). Upon graduation from the program, students are eligible to sit for the national licensing examination, known as the National Council Licensure Examination, or NCLEX- RN. The ADN program requires four semesters of study after the completion of prerequisite courses and admission requirements. The program is 76 units and requires that students participate in clinical practice at multiple health care facilities. Additional general education and graduation requirements for the ADN program are listed in the current
MSJC catalog
.
Admission to the program is based on a Multi-Criteria Selection process after successful completion of program prerequisites. Please click on the Application Process and/or Selection Process tabs to the left for more information on admission.
The Mt. San Jacinto College ADN program is approved by the California Board of Registered Nursing (BRN). Inquiries regarding program approval may be made by contacting the BRN at 400 R Street, Suite 4030, Sacramento, CA 94244, (916) 322-3350.
Clinical Practice Requirement
---
Every student will be assigned a clinical facility each semester in order to meet the clinical objectives required for their nursing courses. All facilities require a background check, drug screening, professional student nurse liability insurance and health coverage as a condition of clinical placement. Refusal to complete a background check, other required screens, and/or failure to meet all other clearance standards established by the health care facility could result in disenrollment from the program or make the student ineligible to participate.
Students who may not be able to pass a background check are referred to contact the BRN for more information about licensing requirements. There are possible convictions that may exclude students from being licensed in the State of California. More information can be found on Clinical Background checks.
Most health care facilities also require strict standards of conduct that all students are expected and required to follow at all times. Facilities may refuse educational access to any student who does not adhere to the facility's standards of health and safety and could result in disenrollment from the program.
Program Learning Objectives
---
Upon completion the ADN program graduate will be able to:
Incorporate ethical, legal and safety standards and professionalism (Nurse Practice Act).

Develop leadership skills and promote research/evidence based practice.
Design a plan of care using the nursing process to direct and manage care of clients.
Develop and utilize effective verbal and written communication methods that can be used with clients, family and health care professionals to promote optimum wellness and patient advocacy.
Incorporate principles of environmental, informatics, client and personal safety when using the nursing process to provide care for clients.
Integrate knowledge of drug classifications used to promote, maintain, and restore optimum wellness.
Synthesize growth and development concepts for the care of clients of various ages.
Compare and contrasts the various physical, psychological, social, cultural, and spiritual environments using the nursing process to promote, maintain and restore optimum wellness.
Analysis of holistic needs for clients to promote, maintain and restore optimum wellness.
Prepare the student for candidacy to take the National Council Licensure by Examination (NCLEX) and continue lifelong learning.
Student Rights and Grievance Process
---
The Mt. San Jacinto Community College District believes that all students shall be afforded fair and equitable treatment in the application of all district procedures and regulations. Students who claim that there has been a violation or misapplication of the procedures or regulations set forth in the college catalog, board policies, or operating procedures of the college district, or who claim misapplication or denial of student due process may make a complaint and, if necessary, file a grievance.

The MSJC Student Grievance and Due Process Procedures are provided as a means for students to resolve complaints and grievances in an expeditious and fair manner, as well as to educate students in constructive approaches to problem and conflict resolution.
ACEN Candidacy
---
Effective December 8, 2020, this nursing program is a candidate for initial accreditation by the Accreditation Commission for Education in Nursing. This candidacy status expires on December 31, 2023.
Accreditation Commission for Education in Nursing, Inc.
3390 Peachtree Road NE, Suite 1400
Atlanta, GA 30326