University of California
Transfer Basics: UC
For students who wish to apply to a UC, students are required to complete their freshman and sophomore (lower division) levels at the community college prior to transfer - we call this "upper division transfer" because the student will enter the UC at a junior (upper division) level having earned at least 60 transferable units. Students earn the 60 transferable units by taking courses that meet:
Non-Transfer General Education Pattern
Minimum Transfer Requirements:
60 UC-transferable units which must include all of the following 7-course pattern:
4

courses (minimum 3 semester units each) chosen from at least 2 of the following IGETC subject areas:
* Arts & Humanities (Area 3)
* Social & Behavioral Sciences (Area 4)
* Physical & Biological Sciences (Area 5)
3

essential courses with a grade of "C" or better:
1. Written Communications (English)
2.4 Minimum UC-transferable GPA (2.8 for non-residents/international students)
NOTES:
The requirements listed above are the minimum criteria needed to be considered for transfer - many UC campuses and/or majors may require students to exceed these minimum requirements to be considered competitive applicants.
All courses used for IGETC must be completed with a grade of "C" or better.
The UC requirements above are subject to change. Meet with your counselor every semester!
Applying to a University of California:
Click on images to access the links.
University of California Transfer Admission Guarantees (UC TAG):
TAG agreements
may guarantee admission to a university upon completion of a contract developed between the student and a four-year representative from one of the universities listed below. Agreements do not guarantee admission to the major of your choice at the receiving institution.




UCLA: Transfer Alliance Program (TAP) - Honors students only:
The Transfer Alliance Program is a collaboration between local community college Honors/Scholars Programs and UCLA College (Letters and Science) in conjunction with Undergraduate Admissions and Relations with Schools. The program is designed to foster academic excellence at the community college level and to promote diversity and retention in the UCLA transfer population. Member community colleges provide enriched general education curricula emphasizing critical thinking, writing, and research through their Honors/Scholars programs.

Transfer Admission - Counting Units:
If your coursework is exclusively from a California community college, apply as a junior. UC limits community college unit credit to a maximum of 70 semester (105 quarter) units, but grants subject credit for coursework beyond that.
Transfer Preparation to the University of California:
Research Your Transfer Options!
Transferability of Courses
Mt. San Jacinto College maintains articulation agreements with the UC. These articulation agreements let the students know which courses will transfer to the UC and are available at the following website:
General Education Patterns
Mt. San Jacinto College offers the UC-approved IGETC option for general education. Although IGETC is approved for the majority of majors, a select few UC campuses may require the student to follow their UC breadth pattern for their major. See a counselor for more information.
Major Preparation and Highly Selective Majors
Students may also complete prerequisite courses for their major. The Counseling Center has created quick guides for majors to our most popular transfer institutions.
There are many majors at the UC that are more popular than others (e.g. sciences, engineering, business, etc.) and as such, they receive more transfer applications than they can consider for admissions.
To manage the high demand for these majors, the UC may require the student to exceed the minimum admissions requirements show above!
To see if your major is selective at a UC campus, please use Assist.org: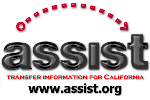 What is Cross Enrollment?
Cross Enrollment is designed for undergraduate students to have the unique opportunity to attend California State University (CSU) or University of California (UC) campuses while they are still at Mt. San Jacinto College. This program is especially useful for community college students who might want to transfer to a local CSU or UC campus, allowing them to take a course each semester at low cost. We encourage all students who are interested in transferring to CSU San Bernardino, CSU San Marcos or UC Riverside to take advantage of this opportunity. Cross enrollment program, will help you get to know the school you intend to transfer to before you get admitted!