ASC Student Highlights
MSJC Students Earn the $30,000 multi year Jack Kent Cooke Scholarship!
Student Samuel Fall, as well as Stacie Bartell and Shayla Esarey were each awarded the $30,000 multi year Jack Kent Cooke Scholarship. Nationwide 73 students were awarded this scholarship. It is a real accomplishment that three winners come from Mt. San Jacinto College.
MSJC Superintendent/President Dr. Roger Schultz surprised the students when he announced the scholarship awards during a meeting they had with their advisers on April 10, 2013. Bartel, a San Jacinto resident, plans on majoring in Ancient Near Eastern Studies and Archaeology. She hopes to transfer to UC Berkeley. Fall, of Banning, plans on becoming a nanoscale engineer specializing in MEMS (micro electromechanical systems). He hopes to transfer to Stanford University. Shayla Esarey, of Temecula, plans on majoring in Political Science with minors in History and Psychology. She hopes to attend Cornell University.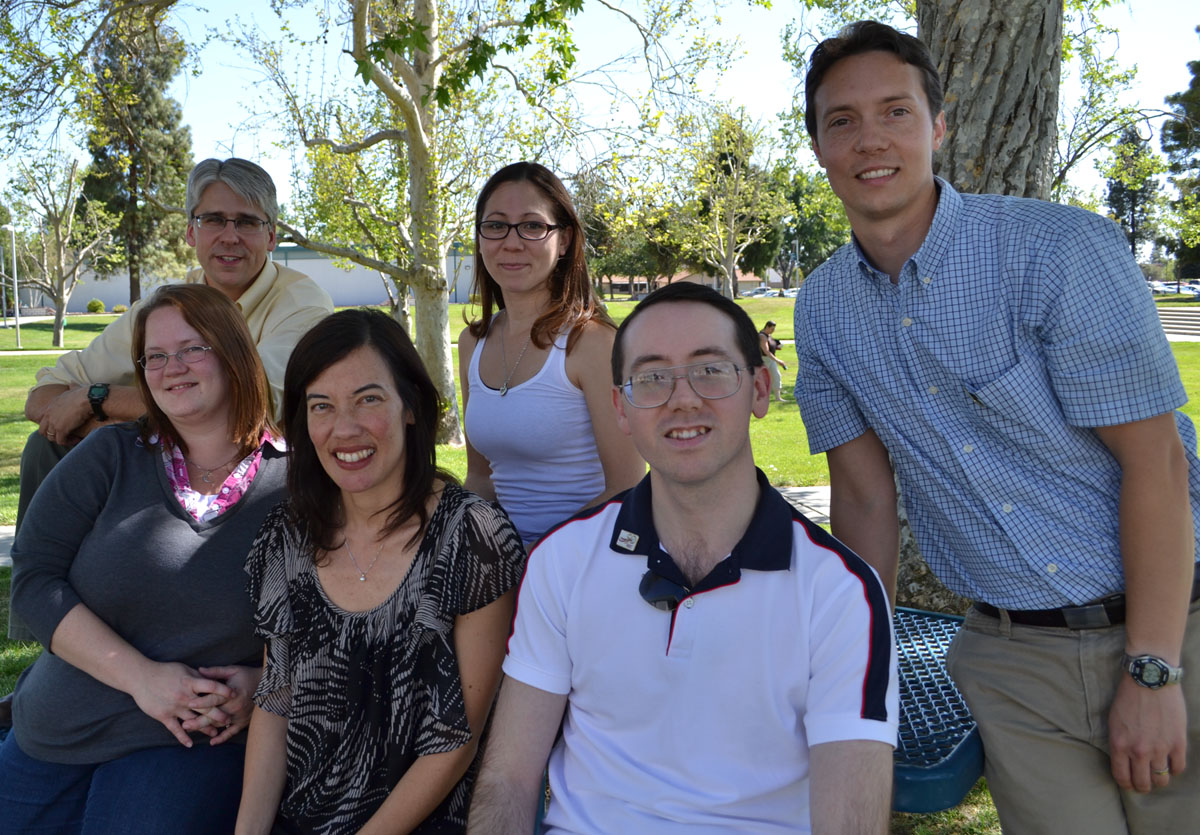 ---

REGION: MSJC students honored for accomplishments

Samuel Fall
BY GAIL WESSON The Press Enterprise
STAFF WRITER
Published: 06 March 2012 04:23 PM

Four Mt. San Jacinto College students will be recognized for their academic, leadership and community service accomplishments at a lunch today in Sacramento hosted by the Community College League, made up of the community college districts in the state.

Judges for the honor society for community college students used grades, leadership and community service accomplishments to select All-California team members.
After lunch, the students will meet with legislators at the state Capitol, their advisor Nick Reeves, associate professor of biological sciences, wrote in an email. They also are eligible for scholarships.
Bartel, the honor society's president, hopes to study ancient Near Eastern studies and archaeology at UC Berkeley or UCLA in the fall. She is a student representative on the Honors Enrichment Program Faculty Committee and has volunteered at the Western Science Center and at her children's elementary school.
Fall is interested in becoming a nanoscale engineer specializing in micro-electromechanical systems. He was a member of the college's UC Riverside STEM wind turbine competition and has presented papers at research conferences. He is a supplemental instruction leader for intermediate algebra at the college.
Macias will study history at San Marcos in the fall and hopes to become a history instructor. She leads group study to help students deepen and enrich their understanding of history. In addition, she mentors other supplemental instruction leaders to be effective in their study groups in various subjects.
Morrissey plans to major in screenwriting at Cal State Fullerton in the fall. He began taking college classes as a high school senior. He hopes to become an intern at Disney Studios as a story board writer.
---

HEMET: Legally Blind Woman Becomes Advocate
Diane A. Rhodes / Special to The Press-Enterprise Published: 02 August 2011 09:46 PM
INLAND PEOPLE

JERI SIQUEIROS-RAMIREZ

AGE: 36

RESIDENCE: Born and raised in Hemet

NOTABLE: She has started a local chapter of the National Federation of the Blind. She wants to enlighten the sighted world as well as offer resources to low-vision and blind individuals.

The group meets from 2 to 4 p.m. the second Saturday of each month at Community Christian Church, 41762 Stetson Ave., Hemet. Information: 951-445-2520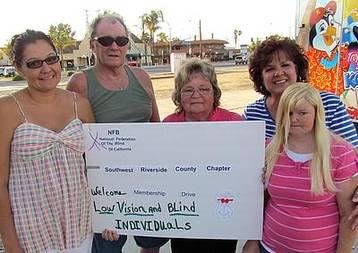 Members of the newly chartered Southwest Riverside County Chapter of the National Federation of the Blind of California, including President Jeri Siqueiros-Ramirez, left, member representative Ken Parker, treasurer Janice Hicks, secretary Maria Siqueiros and Janette Hicks, have been doing community outreach to raise awareness for the group.

Jeri Siqueiros-Ramirez has worked tirelessly to open the Southwest Riverside County Chapter of the National Federation of the Blind of California.
She became aware of the organization for the blind after applying for and receiving a college scholarship. At the time she was losing her vision and had just been diagnosed with diabetic retinopathy, a complication of being diabetic since she was 12. The eye disease allows her to perceive color and light but she cannot judge distance or see details or anything peripherally.
"Just because you are blind, you don't have to sit in a room in darkness," said Siqueiros-Ramirez, 36. "There are people who will support your blindness and show you the tools. You can learn to use them -- no matter what your age is."
A couple of years ago, Siqueiros-Ramirez was selected as one of three Californians to go to Detroit for the National Federation of the Blind's annual convention. She said the experience energized and motivated her to get more involved with the organization. She was impressed with the guest speakers, who included a blind scientist and other accomplished professionals.
"You meet these people who have no vision whatsoever and realize that blind people can do so much," she said.
Last year Siqueiros-Ramirez, who is classified as legally blind, went to the federation's state convention to receive a charter for the local chapter, which now has about 10 members.
"Blind and low-vision people are starving for resources and we offer them," she said. "We are here for the family, friends and caregivers, too."
Maria Siqueiros said the organization has helped her daughter overcome great obstacles, including not being able to drive.
"She has completed studies at Mt. San Jacinto College and was accepted at Cal State San Bernardino for their bachelors program in social work. Upon completion she will transfer into their master's program," said Siqueiros, of Hemet. "She was selected by the NFB to join other members to go to Washington to speak to Congress and meet with senators to lobby for the low-vision and blind citizens in America."
The organization's mission is to use education, research and technology to improve the lives of blind and low-vision people.
"Part of our pledge is to instill independence. We can do almost anything a sighted person can do," Siqueiros-Ramirez said. "The national federation's philosophy is that it is respectable to be blind -- and independence is attainable."
Her suggestion to a sighted person who is around a low-vision or blind person is simple: "Give them a chance and let them know life's not over."
The group meets from 2 to 4 p.m. the second Saturday of each month at Community Christian Church, 41762 Stetson Ave., Hemet. Information: 951-445-2520 or www.nfbcal.org.
Diane A. Rhodes is a Press-Enterprise correspondent. Reach her at 951-763-3461 or dianealease@hotmail.com.
If you have an idea for an Inland People profile, contact Assistant Metro Editor Nikie Johnson at 951-763-3461 or njohnson@PE.com.
Article Source: https://www.pe.com/2011/08/02/hemet-legally-blind-woman-becomes-advocate/
---

DANIEL ALONZO HAS MADE THE GUINESS BOOK OF WORLD RECORDS!
On July 25th, at Dodger Stadium's parking lot, a record was broken. Daniel Alonzo was one of 193 wheelchair users that participated in this record breaking event. A new world record was set for the most wheelchairs in a moving line. Participants moved around orange cones in an "S" shape to honor the beloved actor and activist, Christopher Reeve, and his role in "Superman". The old record of 105 was set in 2008 in Woodstock, New York.
This event was organized by the Christopher and Dana Reeves Foundation commemorating the passing of the 1990 Americans with Disabilities Act (ADA). A group photo was taken by Guiness and a small video is now available on YouTube. Channel 5 as well as Channel 7 covered this great event. Congratulations Daniel! You have done us proud.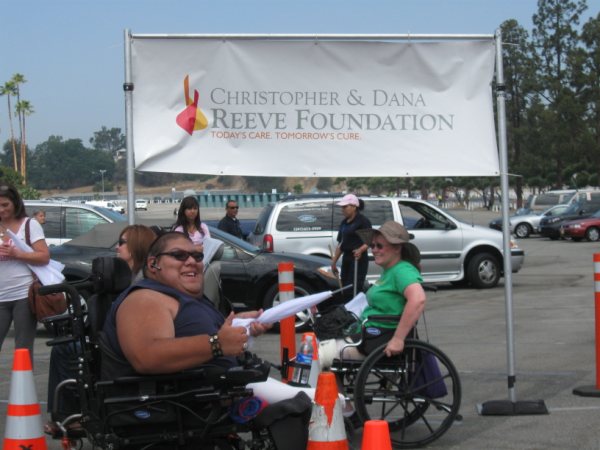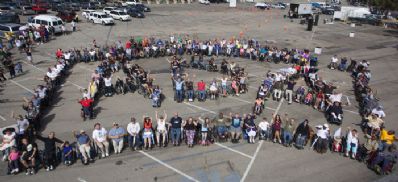 Daniel Alonzo
ADA Guiness World Record Picture
---